Many of us Procrastinate and Wait a Bit to Long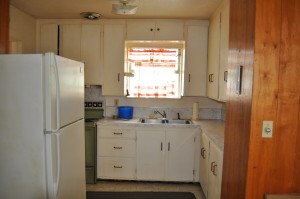 to do an update on Kitchens and bathrooms or take care of some maintenance items that have been nagging, but seldom does a person let their kitchen get to this state. Yes we do see kitchens like this one in some of the houses we buy but generally our remodel projects for home owners are much more "tame". We meet many great homeowners whom just need to update out of the brass and oak age or maybe they have appliances that have seen better days.
One day, for what ever reason you look around and realize the time to remodel came and went about 10 years ago and you still haven't gotten around to updating your Kitchen and Bathroom.
So many homes have this great history of a young family, raising the kids, growing up and really being loved and lived in. We sometimes feel it's time to move on and up but then the memories hold us where we are.
Updating your home is a very good option!
The tale of the kitchen above is the story of a house built in 1912, it was a tiny home of around 800 square feet. Over the years the owner grew old and tired and so we had to write a happy ending for it. We waved our "magic" wand and the kitchen above turned into this: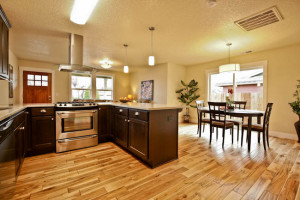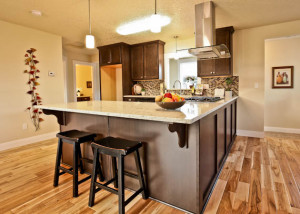 It's really amazing when you see such a dramatic change in something. It's hard to believe it's the same space however if you look at the second photo, the kitchen wall ran along the right side of the counter top, cutting the kitchen off from the rest of the living space.
We opened up the room by removing the wall and made the area feel more spacious. Great for entertaining and family living!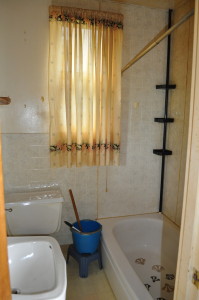 And then there was the bathroom! This was a total "gut job", I am sure yours is nothing like this one. I like to show some of the most disgusting rooms so our clients understand that we can start with something that is old and worn (to put it politely) and turn it into something that looks like brand new, never been lived in before.
Most people need to upgrade to a newer more efficient toilet, upgrade the fixtures, paint, add new surfaces and some times replace tubs and showers. Bathrooms can be challenging because the spaces can be pretty small but with the correct planning you can have a beautiful bathroom that makes you feel that you went to the spa.
We decided that the wash bucket in the corner was not optional for aesthetics and so it is not part of the new design.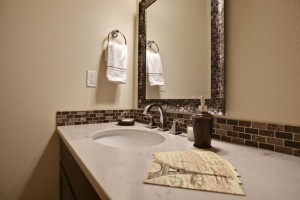 Because we added about 7 feet to the back of the home, we were able to give this bathroom a little more space, the photo beside was taken from the existing tub/shower.
What was so special about this particular home is that we were able to take a two bathroom home (the second bathroom was questionable as you see in the photo)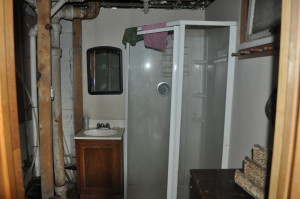 into a three bedroom, three bathroom with a real master on the main floor.  The area had many older homes with only one bathroom.
Having a true master is a wonderful convenience and also a great selling point down the road.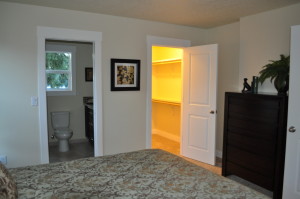 Makes you wonder what we could do with your home Doesn't it?
Kitchens and Bathrooms are important! This is where we prepare our food and get ourselves ready for the day, they are an integral part of any family. How many times have you heard of a family of girls talk about bathroom time? Everyone feels bad for dad however he could have a space of his own. That's a novel thought eh?
We have so many stories about Kitchens and bathrooms we could go on and on forever but here is a story of a family who grew and then shrunk. The parents after living in the house for 60 years went to assisted living and took only what they were wearing. We filled three 60 yard dumpsters and took three loads of rubbish to the dump. Yes that is a mask the worker is wearing, it smelled terrible.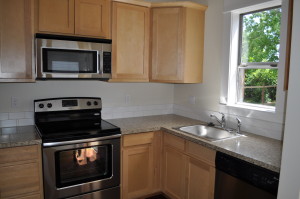 This home was built in 1906 and was added to a few times over the years. It had three bedrooms and one bathroom and was about 900 square feet. We utilized the basement for laundry, to create a little space, re-configured the kitchen and made it into a workable area.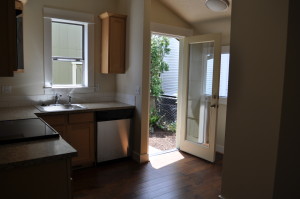 Every single thing was moved in the kitchen and Bathrooms too.  A pantry was added along with a full light back door as you can see.
When I mentioned this home had one bathroom, it was very spacious and about as far away from anything but the kitchen as you could get. It was spacious all right but it was really a "sight"!  The bathroom was so bad I wish I could show you but for some reason there doesn't seem to be any photos. The bathroom was HUGE so we knocked it down and reconfigured the space. That enabled us to give the "master bedroom" a closet and a full bathroom
and we also added a full bathroom with a tub to the living space. We now had a three bedroom and two bathroom home.

Kitchens and Bathrooms are a HUGE selling point to any home. We have been meeting with buyers of both new and used homes for decades and what we find is that the kitchen is many times pretty high on the list of "must haves" because chances are someone cooks for the family in MOST cases, not every case.
Designing new Homes
When we design new homes we keep this in mind. I once heard a wife say,
"If I must cook, give me a beautiful kitchen to do it in". That makes sense to me so we do our best to keep up on the latest trends like farm sinks and the latest and greatest in appliances. We get out there and talk to people to find out what the coolest options are when it comes to surfaces and fixtures and then we pull everything together and put a bow on it.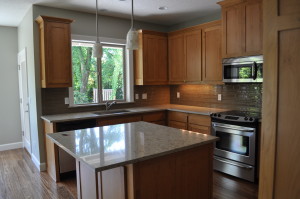 We pay attention down to the tiniest detail like the knobs on the cabinet doors. It seems like such a small thing but you would be surprised how it can change the look of the entire kitchen.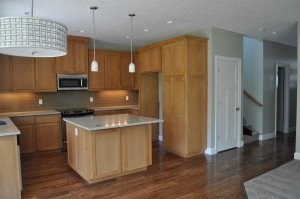 Designing new spaces can be fun because you can be creative depending on many different factors. When we build speculation homes (new homes that don't have a family YET) we try to stay more neutral but include special touches in the home.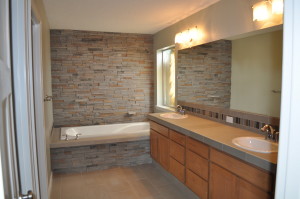 Bathrooms can be fun with all the different variations in tile and accents available. I once saw a design in a huge house in Scottsdale and after scaling it down quite a bit we were able to give this bathroom an interesting look that people really seemed to like.
Not very many home buyers had seen the rock continued up the back wall of the tub, we even inserted a couple of shelves to burn candles right into the wall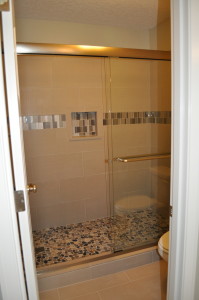 . We also like to put some special touches in our tile showers like rock on the floor and glass accents in the walls.
It's great to have fun but the most important part of our job is to listen to our clients and to help them achieve something they couldn't have done on their own.